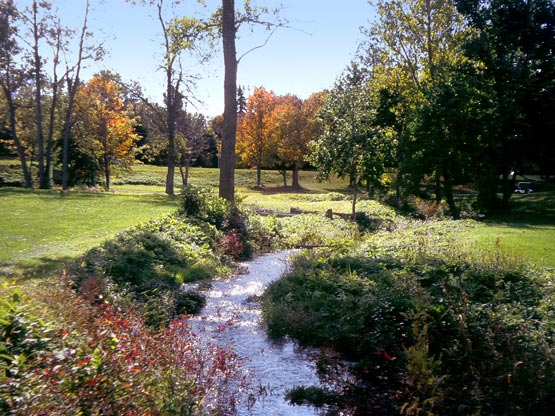 In 1930, Donald Woodward, the youngest son of Jell-O magnate, Orator Woodward, announced that he was going to build Le Roy's first public nine-hole golf course. It was to be located on the North side of East Main Road, opposite his huge stock barn on the corner of Asbury Road. He had already been bitten by the golf craze and had erected lights at his airport for a driving range. The Gazette ran an article that mentioned that at first there were not enough lights to see the golf balls but improvements had been made and that there was a "great fascination seeing the balls soar through the rays of the lights."

Woodward had noticed that a lot of people were playing miniature golf and he noted that they really wanted to play regulation golf but couldn't afford it. He told a friend, "It seems a pity that all those people cannot enjoy the real pleasures of real golf on a real golf course." His plans for a regulation 9-hole course were soon on the drawing board. Eventually, the golf course, the airport, a gun club and target range, a baseball diamond and a "way-side inn" were all part of his holdings.

Woodward created the plans for his golf course based on his "observations and experience of what constitutes a good golf course." He said that he did not intend to make the course as difficult as possible but there would be hazards and difficulties. It was noted that the land was ideally suited for a golf course with a rolling landscape and a creek. In the meantime, Don was converting his stock barn into a miniature golf course. The construction of the water hazard (pond) cost $4,000.